On your worksite, you've got a job to do and sometimes that job requires a lot of … stuff.
So, what do you do when the amount of stuff you need dwarfs the amount of space you have?
Chances are, if you're like most people, you Googled something like, "storage space near me" and were suddenly inundated with an endless stream of results promoting local storage units and portable storage options.
Now, the question is, what's the difference and which one is right for me?
That's where we come in.
At SiteBox Storage, we've been providing businesses with the space they need to be more productive and better organized since 1998, so we understand the difficult situation you're in and are here to help you weigh all of your options.
First things first
Before we begin comparing storage units to storage containers, it's probably a good idea to define exactly what each of those terms actually means.
Storage units are typically housed within a large outdoor complex or within a multiple-story building that you must gain access to in order to enter. These facilities are usually centrally located and can contain hundreds of individual units.
Portable storage containers, on the other hand, are probably what you think of as "shipping containers." Constructed of heavy-gauge steel, with lockable swing-out cargo doors, these multi-sized containers can be delivered directly to your job site. They will be picked up, and either delivered to where you need them next, or simply returned when you're done.
A side-by-side comparison of Storage Units and Storage Containers
There are a lot of different factors that can go into deciding whether a storage unit or a portable storage container will best meet your needs. Below are a few things we think you should consider before signing on the dotted line.
Storage Units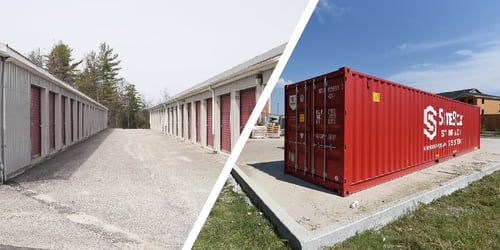 Typically come in a variety of sizes ranging from 5' x 5' up to 10' x 30'
Storage Containers
Come in sizes ranging from 8' x 10' all of the way up to 8' x 40'
Convenience and Accessibility
Storage Units
Once you rent them, you're ready to start using
Some, but not all, offer 24-hour access
Public facilities, usually aimed at consumer storage
You will need to drive to the facility and you may, or may not, be able to park close to your unit
Units generally lack interior shelving or other amenities
Storage Containers
Delivery of your container may take a little time, however, most companies—like SiteBox Storage—have strategically located distribution hubs to help get your unit to you as quickly as possible
You will need adequate on-site space for the container (most are considered temporary locatable buildings and do not require official permission, but this can vary by location)
Once in place on your worksite, or location of your choosing, you will have round-the-clock access that's always within walking distance
Containers provide ground-level access, and some companies also rent dry van trailers that have dock-height access
Most container providers offer amenities such as shelving, pipe racks, bike racks, wall dividers, and ramps
Safety and Security
Storage Units
Large storage facilities usually feature restricted outdoor entrance
Most offer 24-hour, on-site surveillance
Individual units are generally accessed through flimsy, roll-up doors that can be easy breached if on-site surveillance is sub-par
Your property may be susceptible to damage caused by the elements or pests
Storage Containers
With the container placed directly on your site, you are responsible for its security
Containers are constructed out of high-grade steel and their doors can be protected by lockboxes that prevent the use of bolt cutters
A container's all-steel exterior makes them wind- and water-resistant as well as pest-proof
Being on-site, containers provide easy access and allow for dangerous or expensive equipment to be securely locked away when not in use
Cost
Storage Units
Most facilities have set monthly fees regardless of how long you plan on using them—making them more affordable for shorter use
According to the 2020 Self-Storage Almanac, the national average price for a basic 10' x 15' unit is $132.97
Storage Containers
Can often be leased, leased-to-own, or purchased outright
Most providers require a delivery and a pick-up fee, however, the cost may be offset by the time required to drive back and forth to an off-site facility
Some providers may offer discounts based on length of use
Individual container storage rentals can range in price from $100 to $500 a month depending on size and amenities such as climate control
Purchase prices vary too, depending on many factors, including the location and condition of the unit, but can range from a few thousand dollars to upwards of $8,000
Putting it all together
Still not sure whether a storage unit or container storage is right for you? Here's a quick list of pros and cons to help you out.
Storage Units Pros:
You don't need to know how long you'll need a storage unit because you can rent them on a month-to-month basis
More cost-effective if used for a shorter period of time
24-hour, on-site security provided by storage facility
Sometimes climate-controlled
No wait time
Storage Units Cons:
May not be open 24 hours a day, seven days a week
You will have to travel back and forth to the facility
There are limited available sizes and you are unable to customize
Set monthly fees can become expensive over a long period of time
Most facilities have rigid cancelation policies
Other businesses and individuals renting storage units may cause undesirable foot traffic
Storage Container Pros:
Round-the-clock access
No driving required
Potential discounts available for long-term use or the potential to buy outright
Come in a variety of sizes with the ability to customize
Steel construction makes them wind-resistant, rain-resistant, and pest proof
Placed on the privacy of your own site, with no outside foot traffic
Can be moved to another job site
Storage Container Cons:
Have to wait for delivery
Security is your responsibility
Need adequate space on your jobsite
So, there you have it, our breakdown on storage units versus storage containers. If you would like to learn more, or have questions about the product SiteBox Storage has to offer, feel free to contact us anytime and we'd be happy to help.