It happens to everyone. Sometimes you are trying to fit another box in the basement. Other times you are deciding where to place the new baby crib. Sooner or later pretty much everyone needs more room.
For those in the retail or construction businesses, it may happen even more often. Construction sites need mobile offices to conduct onsite business. They may need a storage container to organize and store tools after a shift. Clothing stores may utilize the same time of portable container storage as a place to store seasonal items that won't be popular for a few months.
Those familiar with storage container rental or buying may know the routine. The rest of us might need a little help. Below are a few tips to consider before you search for a Conex box for sale or rent.
How to prep an area for a portable storage container:
Surface Conditions
Portable storage containers can be placed on a variety of surfaces. But, the ground should be dry and level upon delivery. Attempting to place a container in muddy conditions can be a headache for everyone.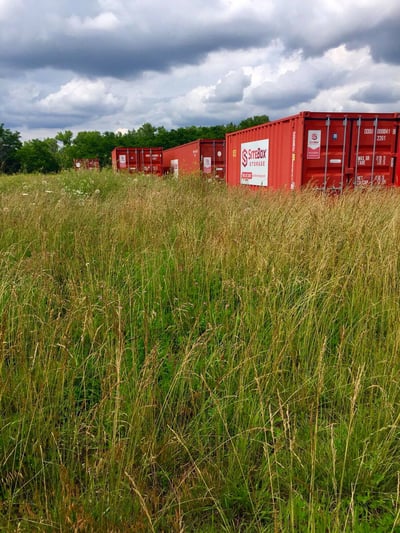 If the ground is soft and prone to shifting, you may need to do some digging and leveling before the driver arrives with the container. Providing a hard, level surface will prevent warping the box and causing problems with the way its doors close.
Shade or Sunlight
Depending on what you are storing, you'll want to consider how many hours a day of direct sunlight the Conex will be exposed to. Direct sunlight can be dangerous for items that quickly melt. While the containers themselves do not allow direct sunlight inside, they can conduct heat. Some things will be fine in the heat; others will be better stored elsewhere. And, if you have the doors of the unit open for parts of the day, direct sunlight may not be an issue at all. (And for things that are very fragile or dependent on temperature, you'll even want to consider a mobile refrigeration unit.)
Placing a storage box under shade can also be tricky, but for different reasons. Trees, power lines, or other obstacles can create challenges that will need to be considered. Delivery trucks may not be able to navigate around or under such barriers. The trucks can require as much as 100 feet (30.48 m) of straight ground clearance. They can also need up to 17 feet (5.18 m) of overhead clearance since the truck tilts during delivery. Reserve at least 12 feet (3.66 meters) for the width.
Avoiding Floodplains
If you live in the Midwest United States, then you know we can get lots of rain. Before you use your trailer as shelter from the storm, consider whether you are in a floodplain. Conex style containers DO protect from water damage during heavy rains or snow, but they are not watertight. It's best to avoid placing a portable storage container in an area that accumulates water during heavy storms.
Considering Security
Portable storage units provide protection from theft through available locks. It's also essential to select a location that will further protect your inventory. You must consider if you want your storage kept in a public area or somewhere behind a barrier. You should also think about how often you will need to access the inventory.
If you are using a mobile office, you also have to consider how close the office should be to the public. Inside a construction site, do you want the office more secure or closer to the public streets? If the items inside are very valuable, you may want to consider an alarm system.
Weight Considerations
Conex boxes can weigh up to four tons. But, they can handle another 61,000 pounds of material. That means you need to make sure the ground under the box can handle the weight. This is especially true if you plan to leave the box for an extended period of time on one site. It may be a good idea to check occasionally for signs of settling. And, if the worksite is in a rural area, you may need to make sure the roads to the location can handle the trucks for delivery and pickup of the mobile storage container. Trucks traveling with the container can weigh as much as 30,000 pounds.
Decide in advance how long you need the container. Make sure the box can be safe and secure in that location the entire time. It's easier to move a container when it's empty than when it's full.
Site Considerations for a Portable Office unit
Outside of the considerations for using a container for portable storage, there's the possibility of leasing a converted container to be used as a mobile office. This gives you a few different considerations.
Out of Site or Out in the Open?
An office will have much more foot traffic than a storage container. You could locate them closer to parking or sidewalks. And typically, because there are no goods, inventory or tools inside, a mobile office container will weigh less than a filled portable storage container. But on the positive side, a perk of using a mobile office container is the climate-controlled HVAC unit inside, making a temporary cooldown area for otherwise hot areas.
Mobile office rental can be a valuable resource for the right business. Temporary retail centers can allow stores to test new locations. Contractors that serve many cities could create a mobile lab process. It's possible to develop a process to standardize an office set up that begins with just the rental of a mobile office and later develops into a fully operational site.
Other Considerations
Office/Storage Layout
You will need to decide what kind of mobile office to rent. It may not be the obvious choice. An office trailer might feel cramped up if it also stores inventory. In this case, you'll want to consider an office/storage combo unit, which includes a partitioned area for the office and an area for storage, with a door in between the two. There are units of varying size and variations between how much space is allotted for storage and how much for the office.
The bottom line: research and plan before you rent or buy a portable storage container or a mobile office.
Once you've decided the best type of portable storage or mobile office for you and prepped the best site, you have choices to make. If you have questions, you can contact the specialists at SiteBox Storage for help in sorting it all out.