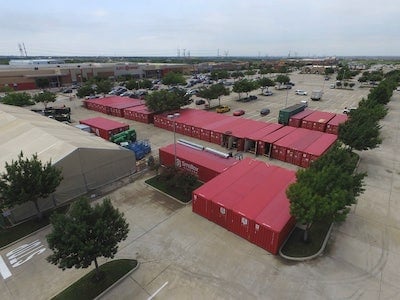 Our contacts and customers asked us some great questions last year. And we answered many of them in our top-rated blog posts. This article will recap our most popular posts, created to answer your most pressing questions. The following is a summary of five of them, with links back to the original posts.
The topics are:
Ready to rock? Let's roll with the first topic: rental cost.
How much does it cost to rent a storage unit?
To answer this question, let's think about what to consider before getting a rental quote. The first thing, not surprisingly, is the size of the storage container you need to hold all your stuff. That boils down to two criteria: the volume of the items you need to store and the size or shape of the stored items. The shape is important because that will directly affect the volume. It's the old "round peg in a square hole" principle.
The second and third factors are related. The storage container's structural composition (is it made of wood, plastic, composite material, or steel?) and the integrity of the construction (how good will it stand up to wind, weather, and wear?) are intertwined. Add to that the possibility of rodent and pest infestation, and you're able to determine what you specifically need. Of course, the more robust a storage unit is, the more it will cost to rent. You might determine what you need, then go a little bit higher. You know… just in case.
Storage rental agreements also play into the cost calculations. There are many types of container units that you can rent on a monthly basis. You just let the provider know if you need it the next month, with at least a week's notice. If you know exactly how long you'll need it, some monthly cost reduction may be negotiable, particularly for a six-month rental to a year-long contract.
Storage containers bring up images of huge empty boxes. But a storage container can be outfitted with amenities to help you make more productive use of it. Things like bike racks, pipe racks, shelving, and wall dividers can make the unit more than just a storage box and morph it into much more - even a mobile office space.
Last, but not least, is the delivery cost. Many companies operate from one or more centralized hubs. The best ones own a fleet of delivery vehicles. And since most delivery charges are based on location, not the size of the container, you may want to upgrade to a larger unit, just in case your storage needs expand.
Next up, bulk buying to maximize profits.
Bulk buying on-demand can increase your profit margins
Let's face it. You have a finite amount of storage for your retail or wholesale shop. But sometimes a deal comes around, one that's too good to pass up. But the one thing that holds you back may be a lack of storage.
We written about how bulk buying could save you money, allowing you to stock many items that you might not normally have room for. If your stockroom or warehouse is filled to the rafters, renting a storage unit may provide the temporary extra room you need.
And it also means you can keep your showrooms uncluttered and shopper-friendly. You just replenish stock from the storage container. It's a great idea for seasonal items, back-to-school supplies, and inventory reduction sales, including buying the excess from store closure or relocations.
Let's move on to the next question about mobile office security, shall we?
Six tips for securing your portable or mobile office
Like a few other rental companies, we can supply container storage that's for more than just, well, storage. Of practical use, a decked-out steel container storage box can make a most excellent worksite office. Since ours are constructed of steel, they're already pretty vandal-resistant as is.
However, you can take specific actions for securing it even more. We give you several reasons why you may need to take extra measures for security.
And we also give you pointers on what to look for and additional ways to secure your mobile office. Hint: one option… has legs!
By the way, what if you find you don't have enough worksite storage? The following article shows you how to fix that.
Overcoming a lack of worksite storage
You might have your worksite stations set up and running. But then an additional shipment of materials or supplies comes in, and you need to expand, at least temporarily.
You have several options, some of which can be integrated into your truck or van. Things like toolboxes, bed-mounted racks, and cargo area cabinets. That's all well and good. But sometimes, you might wish you had a mini-warehouse onsite. Hey, that's not a pipe dream. It's a very real and quite affordable option. Want to know how that works? Let's look at adding worksite storage.
Sometimes, you need to pack up shop and move to a new location. This next article provides a handy dandy checklist for making that move as painless as possible.
Our business moving checklist makes moving easier
Whether you are moving your business headquarters, office, or store across town or across the state, a little organization goes a long way. It's usually not a spur-of-the-moment decision. But if you don't keep it organized, it can become a real pain.
What if you had a business moving checklist to help ensure it all goes smoothly? Okay, you may still hit some snags along the way. But by using this checklist that comes with a built-in timeline, you can make sure that everything goes according to a well-planned schedule.
This business moving checklist gives you specific tasks on moving day that ensure you haven't forgotten anything. Once that's done, you can celebrate and head on down the road. And give yourself a pat on the back for making sure your transition to the new location was well-planned and executed.
By the way, we're here to help you make that move and can assist you will all the tips contained in these articles.