Regardless of your industry, a must for any worksite is plenty of storage space. Since worksites are filled with necessary, yet expensive tools and materials, theft is a major concern for many construction sites. There are many ways you can help prevent job site theft, but a key factor is using secure storage options at your job site.
Work efficiency is another major concern when there is not enough storage for keeping all the necessary tools and materials on site. Therefore, having the right worksite storage solutions will not only improve work efficiency but also help reduce theft. This list will help you overcome a lack of worksite storage on your next job.
Portable Worksite Storage Solutions
Portable storage containers are a great way to overcome a lack of worksite storage. Also known as container storage, portable storage containers can provide temporary or permanent storage solutions that best fit your needs. Container storage is available in a variety of size options to accommodate all types of worksites. The easy mobility and long-lasting durability make portable storage containers an ideal solution for construction sites. And the ability to secure a container keeps tools and materials safe from theft when workers leave for the day.
It's important to find a company to provide this easily accessible type of storage that can work within your needs, and has a reliable system of delivery that won't upset your workflow.
Advantages of Using Portable Storage Containers
On-site Access
High-Security Locking Systems
Weather and Pest Proof
Options for Adding Shelving or Pipe Racks
Optional Wall Divider: This allows separation of storage within the same container.
Storage Solutions for your Truck or Van
With work vehicles being on the job site daily, installing built-in toolboxes on your fleet of work trucks and vans is another available storage solution. This mobile storage option will ensure workers have all the tools to get their work done when arriving at any worksite.
When utilizing truck and van storage for your fleet, it is important to purchase equipment and accessories optimal for your industry. There are several factors managers need to consider when purchasing storage solutions for their fleet. Without proper storage solutions, it may cause a workflow slowdown because of time spent searching for items or the need to make multiple trips for carrying large items. Therefore, it is beneficial to get feedback from workers about what would help them when traveling and transporting items to and from a worksite.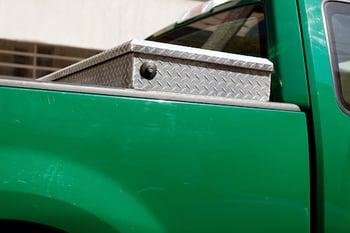 There are several limitations to using truck and van storage, such as the size and weight of materials that can be transported with the vehicle. Also, since workers may forget to lock toolboxes or properly secure items to the vehicle, there is an increased risk of theft or damage to tools and materials. Therefore, truck and van storage solutions are best used as a supplement to other worksite storage solutions.
Types of Truck & Van Storage Solutions
Built-in Toolboxes: This is one of the most-used storage solutions in work trucks.
Truck Racks: This is ideal for hauling ladders and other larger-sized items to worksites.
Adjustable Shelving: This storage option helps to keep tools and material organized in work vans.
Built-in Cabinets: These will fit into vans to allow easier access to small parts that are prone to get lost otherwise.
Warehouse Storage Solutions
If you are working in an industrial setting, you may have warehouse storage right there on your job site. A large warehouse is a great solution for very large equipment, but might not be the best for keeping things secure if it's opened and accessed daily.

Adding container storage (described above) that can be easily locked down is a great way to control inventory and to further secure items inside the warehouse. It can be added outside the warehouse, or for further security, inside the warehouse itself. And, if your warehouse has plenty of storage, but could use some office space, you might even consider adding a mobile office.


SiteBox Storage offers temporary or long-term storage solutions for your worksite that fit your storage needs and budget. Now that you know how to overcome a lack of storage on your worksite read more about the cost to rent portable storage.