You probably have a permanent office or office space for your business. For some, it's all the business "facility" you need. For others, it's a part of your operation, often either in your main facility or in a detached building, away from the hustle and bustle of your manufacturing or other functions.
However, a temporary office or mobile office is sometimes necessary. Even if you have a home base—a permanent office area—there are times when you need additional space for your office personnel. For example, you may need a temporary office or office space if:
Your business has seasonal increases and decreases in operational needs. Should you need to hire seasonal, temporary, or project-based staff, they need someplace to work for the duration of their stay.
Your business has increased or expanded, and you've outgrown your current office space. You may need extra temporary office space until larger quarters are built or acquired.
Your current office is going through renovations and can't be used. For example, design and/or architectural changes may require you to vacate the current office while it's remodeled.
Sometimes unexpected repairs, such as electrical or plumbing catastrophes, can cause an unexpected situation where temporary office space is necessary.
Your business model requires temporary satellite offices, often needed in construction businesses as well as emergency service operations. You may need more than extra office space. You'll need an office that's mobile, too.
I could go on and on, but there are too many reasons why temporary or mobile office spaces become a vital part of your business operation. Whatever the reason, you need to determine what type of office space you need for business continuity.
Let's look at three options and discover the pros and cons of each. The three options for temporary offices are:
Rented office rooms, dedicated to temporary workstations
Prefab mobile-home-style office rentals (also called office trailers)
More robust cargo-container-style offices
We'll start with dedicated rental office spaces.
Dedicated Office Rental Options
Office rental space has become an increasingly popular option over the past two decades. Originally coming from the "coworking space" concept used by freelancers and entrepreneurs, this option looks and feels like a "real" office, located in an actual building. Daily and weekly rentals are possible, although a lease agreement is often required should the temporary office be needed for long-term occupancy.
Depending on the rental company, these temporary offices may be furnished or unfurnished to varying degrees. If renting this temporary office for short-term use, you may want to ensure it has all the features required to run your operation efficiently. That way, all your employees really need to pack in is their laptops and mobile devices.
All utilities are provided, hooked up, and running. Even phone lines and Internet may be provided, although you may need to forward your phones to the new numbers if necessary.
Many of these permanent types of office rentals are actually refurbished warehouses and unused office spaces. Many times, a company has downsized or is no longer using the space or warehouse facility. Rather than let them lie dormant, they turn them into rental offices, creating a profit center. Some public libraries have conference rooms available as well. However, you are limited to the times and days the library is open. And they're usually not for more than one day's use.
Of the three options, these have the look and feel of a permanent office in every respect. There are a few downsides to this option. The first one is a biggie.
Location.
Your team will have to go to the rented office, and that may not always be convenient. Whether or not it saves a commute is up for grabs. If you need temporary office space short-term—a few weeks, days, or even hours—definitely consider this option. The longer you have to use a temporary office, the cost could also be a factor with a dedicated office rental.
That leads to the next possibility: Prefab mobile-home-style offices.
Trailers or Mobile Homes: Temporary Offices That Come to Your Location
You're probably familiar with mobile home parks. If so, then you have an idea of what this type of temporary office looks like. Of course, it's more mobile than the first option. And in most cases, you can have some input to the design and layout, within specific parameters. You'll see these temporary offices at car lots, new housing additions, and other venues where a temporary office is necessary to conduct sales.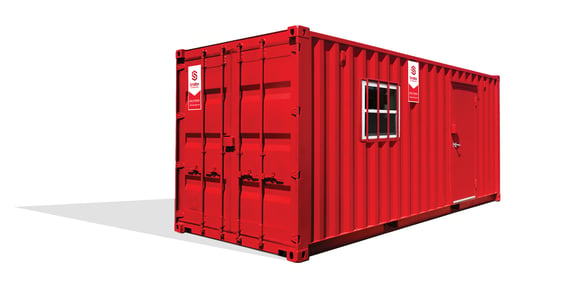 They're usually quite comfortable and look reasonably presentable. Since trailers are not at ground level, you'll need to have stairs, ramps, or other customer-accessible means of ingress and egress. Skirting around the bottom hides the axles and wheels. Even the "tongue" of the trailer can be dressed up, so it doesn't interfere with aesthetics.
They will come complete with all electrical, plumbing, and mechanical fixtures. Make sure that it is up to your location's codes and standards, although this is rarely a problem.
Of course, this is not an option if your needs are less than a week. The staging and take-down costs make that prohibitive. And you may need to rent by the month, no matter how long you need it. If you have long-term temporary office needs, this may be an option to consider.
These are relatively sturdy structures. But on the downside, they aren't built to withstand the rigors of a harsh environment, nor the wear, tear, and potential abuse of a construction site. A mobile home office, or trailer, might be a good option, as long as your location isn't a "combat zone."
Speaking of which, let's look at the cargo container temporary office option.
Container Offices: The 800-pound Gorilla of Temporary Office Space
Admittedly, these aren't the "Belle of the Ball" by any means. Built from cargo containers, they're boxy, bulky, and lets' face it, aesthetically, they are the ugly duckling of temporary offices. On the outside, anyway.
The interior is almost a blank slate, customizable to your needs. This temporary office space is frequently found on construction sites, building renovations, and is also used as a temporary command center for natural disasters. There are so many places you might find a storage container!
It sits flat on the ground, which means that you won't need fancy stairs or railing to allow safe entry or exit. Many are designed to perform double duty. One part is designed for office space, the other for storage. You might want a separate unit to use expressly for storage as well.
Of the three options presented here, this is the most robust. It's almost bullet-proof, literally. The steel construction makes it mostly impervious to wind, weather… and forklifts. While personnel doors can be added to the side panels, the ability to throw the end cargo doors wide open can be a boon. If there's a lot of foot traffic from workers and contractors, the easy ingress and egress can come in handy.
Their sturdy structure makes them easier to keep secure from theft, vandalism, and incidental damage.
Since they are repurposed shipping containers, they come to you rodent-resistant. That means your documents, plans, and office equipment won't be chewed up by some errant field mouse.
While they aren't the prettiest, they may be the most useful for this type of temporary, rugged office use. You may find this is the best option for you, and it could turn out to be your best friend in the field. Their rugged nature is unmatched, except for their big sister, the blast-resistant modules that are often found on worksites with classified hazard areas, like refineries.
Despite the boxy look of the exterior, you can get most of the amenities of a brick-and-mortar office. Heat and air, electricity, even a mobile network can be preinstalled before delivery. Sometimes you can order counters, desks, and other necessities. Or you can bring your own.
Most are leased by the month, in a 28-day billing cycle. It's sometimes possible to rent for a shorter term than a month, simply ask the supplier if it's a possibility and if there are any fees for a short-term rental. But let's be honest. When was the last time a construction or building remodel took just a week?
And if that happens, you might check into a lease-to-own option, or purchase a new or used unit outright. When looking for temporary office space, sit down and think it through carefully.
What do you want?
What do you need?
How long will you need it?
The answer to those questions, and a few others, will help you make the choice that's best for you. Need help learning about the container option? Give our knowledgeable customer reps a call today at one of our locations throughout the Midwest. Or send us an email to find out if this is the best option for your company.