There are countless occasions when you might need to rent or buy some type of enclosure to use as a mobile office. Mobile offices, sometimes called field offices, can provide a designated location for conducting business away from the brick and mortar of a permanent office.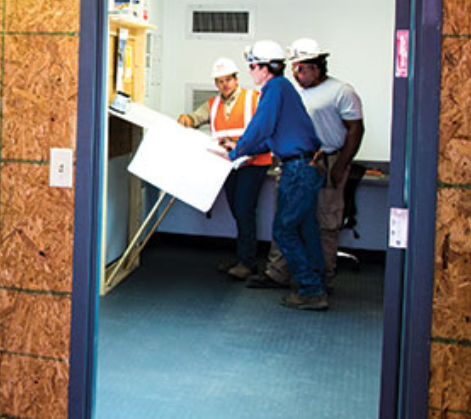 While you have many options for modifying a mobile office—and we'll talk about them in a minute—you also have several choices in the type of enclosure to use. The kind of enclosure depends, in a large part, on one of several factors, or even a combination of them:
Duration of occupancy
Protection from the elements required
The intended use of the enclosure, including people "traffic" expectations
Safety considerations
Security considerations
Aesthetics
Other matters unique to your situation
Your budget allotment for the use is also a factor to consider. However, make sure that going cheaper doesn't compromise the other included requirements and expectations.
Understand, too, that the type of enclosure will affect the availability of modifications you might need for efficient operation. I think back to the childhood story of the three little pigs and the big bad wolf. Sure, the houses of straw and wood did offer some protection from the elements. But only the house made of bricks proffered safety from the ravages of the blowhard canine!
Seriously though, what are some of your enclosure options?
Three come to mind: rental tents, modified mobile homes, and sturdy modified container storage units.
Two Mobile Office Choices
One option, perhaps (maybe) the most affordable one for temporary implementation, is to rent a tent. There are many tent rental companies in the business, with a few options or modifications available. Just do a Google search for party tent rentals and you'll find a slew of companies that offer them.
For the most part, these are best for parties, as the name suggests. Rental for a small pop-up 10x10 tent can be as high as $100/day on the low end. A 20x20 tent can cost between $200 and $500 per day, and a standard 20x40 can be as high as $750 per day. Of course, if you want walls with that, the rental cost could escalate even higher.
So rental tents are typically used for one-day events, although some trades, such as welding or pipe fitting, may purchase sturdy tents for outdoor work. But they don't really work well for mobile offices. I did see some used for emergency medical needs on a few occasions.
The mobile-home-style office combines functionality with aesthetics. If you're "planting" a mobile office for an extended stay—and appearance means something to your operation—that would be a way better option than a tent. For example, if you need a temporary office for a used car lot, this might fit the bill. Most are preconfigured with office rooms, and have most of the comforts of a "real" office, as long as the right hookups are available.
Even so, there are downsides in many cases. Getting the mobile home to your site may involve special transportation charges and permits. And, most mobile homes are limited in the daytime hours they can be transported. And, lastly, they are mobile homes at their core - tie-downs, skirting, and stairs for ingress and egress are necessary.
Another Mobile Field Office… With Huge Modification Options!
Container storage units, sometimes called cargo boxes, might be the most efficient choice on several levels. They can often be rented by the month for what you'd pay by the day for a large tent. While some may see them as the ugly duckling of the three, they have some built-in features that are downright attractive. And with the range of modifications possible, they can be a comfortable, cozy workspace with the strength of Fort Knox. Well, almost that strong.
The two most popular sizes for mobile offices are 8x20 and 8x40 feet. To give you some idea, my own home office (in a converted carport) is 9x12 and has all the comforts I need, including a small refrigerator, the always necessary coffee pot, and room for at least two more workspaces, if needed.
In a word, it's roomy.
Even the 8x20 container has plenty of space for a very workable, comfortable, and efficient office. The 8x40 container storage office even allows you to make it work double for you. For example, one half can be modified to create an office with all the necessities: shelves, work/layout tables, lighting, and networking equipment.
The other half of the unit can be modified for storage or deployment areas. For example, suspended shelving and pipe racks keep tools, parts, and expensive pipes and conduit out of the weather… and out of vandals' reach. (By the way, the 8x10 units can also be divided, with a personnel door between the sections).
What other modifications are possible with container-style mobile offices?
A True Field Office in Every Sense
When either size (8x20 and 8x40) is divided by a wall, you can designate one side for mobility. What do I mean? For one, hanging bike racks can be installed to let your people who prefer to pedal to work keep their bicycles secured and safe from wind, weather, and theft.
On a large jobsite, like major construction projects, you might want to employ an electric cart or buggy to get around. Keep it safe at night in an indoor "garage," built in one-half of the container. Since the container unit sits directly on the ground, you may only need a small ramp, if any.
By the way, since the cargo container mobile office sits directly on the ground, it is less susceptible to wind movement that can cause lift in trailer units. You want a mobile office that will stay put; not one will end up in the Land of Oz, right?
Other options include windows (that can have security bars installed), additional doors (in addition to the end swing doors), heat and air units to keep the office comfy any time of the year, and ceiling lighting to keep you from squinting at building plans and electrical or plumbing schematics.
I know we talked a lot about using cargo containers as mobile offices on construction sites. But there are many more operations that could benefit from a field office constructed from a container storage unit. If you think it might be an option for you, give our experts a call today.
Tell them what you need, and they'll let you know if we can make the mobile or field office modifications to fit your unique requirements.