Consider these real examples of construction site theft:
After midnight, a husband and wife team of thieves load up a rental van with strand board from a Boise, Idaho, housing subdivision construction site. Fortunately, a cell phone alert to the contractor who lives nearby and a quick 911 call to the police results in a capture.
Early on a workday, someone bashes a stolen front-end loader from a Vancouver, Washington, construction site into a Bank of America ATM nearby.
With 17 search warrants in hand, the Chicago Police break up a construction equipment fencing operation run by an extended family and involving $1 million in commercial construction site equipment.
It's difficult to find clear statistics about the cost of construction-site theft of building supplies, equipment, and tools. But estimates of annual losses range from hundreds of millions to a billion dollars based on equipment alone.
What's clear is that construction theft is likely to occur and raise project costs if contractors are careless about minimizing opportunities for stealing from work sites.
There are a broad range of tips for avoiding shrinkage due to theft on construction sites. Some include matters as basic as improving the amount, location, and power of lighting at construction sites. Advice from construction experts also entails more complicated measures, such as round-the-clock surveillance, which is particularly important for commercial jobs, including housing developments, where crooks can gain access to expensive new appliances and heavy construction equipment.
Improving Basic Security at Construction Sites
Here are some ideas for minimizing theft, including improving storage of construction equipment and materials.
Outdoor Lighting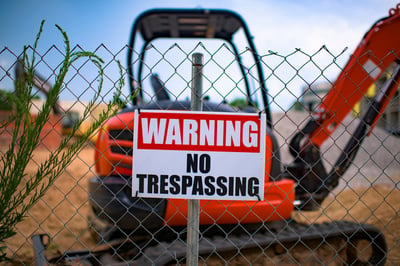 Make thieves conspicuous by keeping your site well-lit after dark. The Balance Small Business construction blog points out that most thefts are committed by employees and others who know a construction site well enough to find "their way around in the dark."
Metal Fencing
Erect a chain-link fence around your site and limit access to keys for the gate, which should be locked day and night. Post no-trespassing signs.
Secure Storage
Sometimes lighting and fencing aren't enough. Onsite storage of building materials, equipment, and tools is easier with a sturdy metal, portable storage container within a fenced area. The weatherproof metal containers manufactured by SiteBox Storage have double swinging doors, are about 8 feet tall and wide, and come in lengths from 10 to 40 feet. They can be customized with shelving and pipe racks.
However, you have to keep in mind that no storage unit is secure if the employees who have access to it don't lock it after exiting. Construction-site thieves look for easy, rapid heists. They are more likely to avoid orderly sites where materials and equipment aren't left out in the open and that have high fences and well-locked gates and storage.
Without an equipment garage, some heavy equipment needs to be left outdoors. It's important to emphasize to anyone who has access to these vehicles that they should lock cab doors after use, especially at end of day and before weekends. A daily sign-in/sign-out log for users of any equipment or tools helps in tracking missing equipment and materials.
Equipment ID and Records
Many construction equipment manufacturers now apply a lengthy individual product identification number (PIN) to each piece of equipment they manufacture. But others simply apply a general serial number to each vehicle. PIN identification isn't yet mandated like an automobile VIN. Keep a record of equipment PINs and serial numbers to help in tracing and reclaiming stolen equipment.
Find other ways to mark your equipment in a way that would be difficult for thieves to remove. "Ugly it," said one builder writing at Contractor magazine in 2004. His recommendation to brand equipment with company colors, or swatches of bright neon orange and pink, is good advice for 2020 and beyond.
Construction Site Surveillance
Neighbors who keep a close watch on suspicious activity in their neighborhoods are often part of the surveillance system for residential construction companies. But for expensive projects — especially large, commercial jobs or field projects that require secure portable container storage or shipping container offices — security guards or 24-hour webcam surveillance may be necessary.
Creating a Theft Risk Analysis Plan
Organization is the key to succeeding at any project. Sitting down to hammer out a theft risk analysis plan for a project site with key members of your construction team is an important first step in thwarting burglars.
This process includes drafting a map of the property that notes likely points where trespassers might enter and locations where nighttime lighting or camera monitoring is weak. It includes discussing how to gain buy-in from subcontractors regarding securing vehicles, storage structures, and gates. It involves vigilance and the mindset that theft isn't inevitable.
One more thing: A good plan requires sturdy, well-secured structures for stowing equipment and building materials. SiteBox Storage has container storage that can help protect your construction site.