By now most business owners have at least heard of portable offices. Companies in the construction, renovation, and mobile sales industries frequently use them. But many people either have outdated notions or outright misunderstandings about the actual product.
The storage industry has evolved from the damp, drafty multi-garage format of yesteryear. Today, portable storage is secure and water-tight with lots of options. In the same way, modern mobile offices offer a completely different experience.
Here are seven facts about the portable office or mobile office.
They Can Be Placed Almost Anywhere
One of the best things about modern portable facilities is that they are truly portable. These structures can be placed almost anywhere the ground is dry, stable, and flat. The delivery truck needs a lane of 50 to 100 feet to maneuver into position. The truck would also need up to 17 feet of vertical clearance and a lane 12 feet wide.
This flexibility means units can be placed in parking lots, undeveloped/vacant lots, or city streets. You may need to acquire permits from local government units.
You Don't Have To Worry About Transportation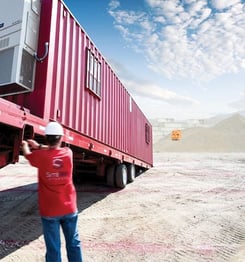 One of the things people fear about portable structures is the nightmare of delivery and pickup. With today's modern units, that is not a problem. You set aside the location and the mobile office is delivered on schedule. Keep it for as long as you like, and then schedule a pickup.
This simple arrangement means you don't need to hire a driver and rent a truck. And, having them on your worksite (or wherever) means not having to commute back and forth.
You Don't Need To Decide Whether To Rent Or Own
If you are thinking about a mobile office for the first time, you may be hesitant. Every first time purchase can be scary. The reality is, you don't have to buy the first time.
Leasing options are available on a roughly month-to-month duration. Try it out for a few months. Leases are perfect for short durations or for customers that will move frequently.
While you can always purchase new and used units outright, you may not be ready to purchase upfront. In that case, you may want to consider the lease to own option. That will allow you to use the unit while you make low monthly payments.
Modern Mobile Offices Are Rugged
Mobile offices in the past weren't always the sturdiest structures, some to this day are no more than trailers. Larger people could feel as if they might fall through the floor at any moment. Blowing winds could also be cause for concern. Despite claims of solid construction, many of those offices felt like thicker cardboard.
Certainly, trailer offices are still available. Today you also have the option to use treated steel structures that are watertight. You will definitely not feel like you could fall through these floors.
In addition, units that sit flush to the ground add that additional measure of safety. Being ground level means no need to install stairs at an additional cost and with the addition of a ramp, you are ADA compliant.
They Are Not Easy To Damage Or Burglarize
If you use a steel mobile office, you have instant security. Gone are the days of quick break-ins or overnight theft of equipment. It is true that determined thieves can break into anything. However, you can rest assured that it would take large power tools and a lot of noise and time.
In addition, the lockbox is literally welded into place. The lock itself is integrated into the unit's design. It is virtually impossible to tamper with the lock or use bolt cutters.
You Don't Have To Choose Between Storage Or Office Space
If you have a need for both storage and a mobile office, you have options. Most mobile offices are available in 20 or 40 foot versions. You can choose from a variety of models that feature different ratios of office to storage space, separated by a wall. That can be useful if you need to get work done while others are loading or unloading material.
Not Just A Big Empty Box
Another misunderstanding is that these offices are cargo containers with welded tables in the center. That couldn't be further from the truth. These modern marvels contain just about everything a normal office needs.
Standard features include:
Ethernet and electrical outlets
Heating and air conditioning via HVAC system.
Fluorescent lights that are shielded from accidental damage.
Smoke and CO2 detectors with fire extinguishers.
Reinforced windows with security bars.
In addition, you can request optional amenities like shelves, racks, furniture, and internal walls.
Expertise In Meeting Needs
You will never know how much these offices can meet your needs until you contact a provider. The modern mobile office is the result of decades of portable structure evolution. Whether you want a portable sales unit or an office for a construction project, call SiteBox Storage to talk about your needs.