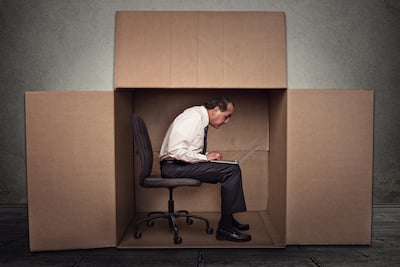 Several years ago, we decided to remodel our carport/utility room, turning it into a multi-use space. I'd have a nice home office space, and my wife would finally get her sewing room.
Because we had a finite space to work with, I mapped it out with a simple CAD program. Using various-sized object blocks, we moved things around until we got just the right look and feel. After a week or two, we were ready for construction.
My cozy, 8' by 12' office is large enough for my massive computer desk, a credenza, a file cabinet, and three nice bookshelves (one with hinged, glass doors - something cool I've always wanted to own).
Happily, there was enough space left over for a mini-fridge and my coffeemaker. A man cave extraordinaire, if I say so myself. The right office size makes a huge difference, for sure.
We expanded the attached laundry area and finally had room to walk around the freezer, washing machine, and dryer without tripping over piles of clothes.
Now, while it took us several weeks to decide on a layout (I won't say who got the bigger space to play in … but it wasn't me), designing your mobile office should go pretty quickly. That said, a little careful planning ensures you get the correct mobile office size and layout for your project needs.
And like our home project, the mobile office module space can serve multiple purposes.
We'll talk about that in a minute.
But before we do, let's take a look at some scenarios where a sturdy mobile office turns out to be the optimal choice for jobsite productivity and security.
You Might Need a Mobile Office If …
There are many scenarios where a rugged portable office is handy, if not essential. Now, a major construction site naturally comes to mind. In fact, it's easy to picture a mobile office or two sitting in the parking lot of a large, busy multi-story office complex project.
But, there are other circumstances that would benefit from a durable mobile office:
Residential housing addition developments

Building renovation projects, like plumbing, electrical or HVAC upgrades

Natural disaster relief operations for tornados, floods, and wildfires

Emergency medical activities

Temporary security offices for worksites, arts and crafts venues, and town celebrations
Any time you need a temporary, customizable, and secure office—whether for days, weeks, or months—a mobile office unit, like those offered by SiteBox Storage, gets you up and running quickly and fulfills all your requirements.
Now that you've decided a mobile office is in order, what's the subsequent step?
Determining the size of your office space is your next priority.
Here's how to start.
Sizing and Laying Out Your Portable Office
Well, I googled the recommended dimensions for office spaces recently. Everything from rules of thumb to actual square footage showed up in the results. But all of them were for fixed, brick-and-mortar spaces that typical office employees would work in during normal working hours.
We're not typical office workers, and sometimes our hours are far from normal, right?
So, we can pretty much throw those calculations out the proverbial window (which, by the way, you may want to include in your office layout. Real windows, that is, not imaginary).
For determining how much space your mobile office should have, consider these three factors:
Who (and how many) will occupy the mobile office on a regular or continuous basis,

What the office will be used for and all the equipment required, and,

How long using the portable office will be necessary.
The main reason I included the length of time the office will be used is simple. People can stand to work in cramped quarters for a short period. A few days, maybe a week. Longer than that and "personal space" issues come into play.
Fortunately, many mobile offices, like office modules available from SiteBox Storage, come in 8' by 20' and 8' by 40' configurable sizes. That's adequate space to design a short- or long-term, customizable, fully-functioning field office with enough room to move around comfortably.
Now that we've got that time issue out of the way, let's concentrate on the other two.
Who will be using it and what they'll need to work with.
Mobile Office Size: Enough Space for People and Their Stuff
Remember, my home office was about 8' X 12'. That's 96 square feet of prime office space. But I could remove a bookcase (but never the refrigerator or coffeemaker), and move in another desk. Two people could work comfortably without tripping over each other.
The more people using it on a regular or continuous basis, the more square-footage is required.
On a construction site, the GC (general contractor) could use an 8' by 12' office. Or even an 8' by 16' office if an assistant will work there, too. There's plenty of room for a desk or two, office equipment, and a work table. By selecting a 20 foot long office module, there's even room to create an area for a coatroom and supply storage.
Don't forget the coffeemaker and fridge. Always remember the essentials.
If the GC chooses a 40-foot option, a portion of it can be partitioned for meeting with the project subcontractors, either singly or as a group. Work tables or benches are also practical options.
The 8' X 40' office module makes a great "command center" for all types of activities. Desks or work tables could be lined up along the long side, with plenty of room to walk behind other workers.
Subcontractors might want the longer option as well. Using a wall—either with or without a personnel door access—a comfortable, workable office is placed at one end, with storage on the other. Adding hanging shelves and floor bins, a secure storeroom for pipe, conduit, fittings, wire spools, and other parts that might "walk" off the jobsite helps keep costs down.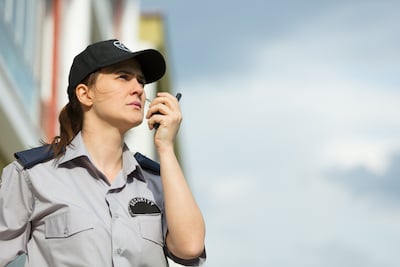 An 8' X 20' module is a workable size for a security office. Partitioning it with a fast wall and windows provides an office with three-points-of-view for the guards, with storage in the back for traffic cones, temporary fencing, and other security/personnel supplies.
For disaster relief and medical emergencies, you might consider a mix of 20- and 40-foot modules. Long modules would make excellent command centers, and shorter modules would be used in staging areas.
Any size module can be partitioned into smaller mini offices, with doors to each office, from either inside or outside. The possibilities are only limited by your needs.
So the key is to decide how many occupants you'll be using and what equipment they'll need to work effectively and efficiently. Then you can choose the right size module, or combination of modules, to complement and streamline your workflow.
Need help deciding on a game plan? Contact one of our friendly, expert SiteBox Storage reps today and get the ball rolling for your next mobile office project.