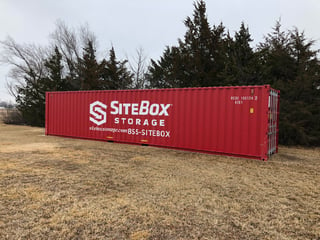 A Conex box is a large steel structure, designed for the transport and storage of goods. Thanks to the International Organization for Standardization, or ISO, they have universal specifications that allow them to be transported by rail, truck or ship. Recent years have seen a rising use of these boxes for portable storage on construction or other job sites, as a tool box to keep large job site tools secure, or even decked out with windows and internal walls and used as temporary office space.
There are a few different names for conex boxes, like ISO container, intermodal container, cargo container, sea can, c can, or some simply call them a container or shipping container. The name conex (sometimes spelled connex) was originally used by the US Military to refer to "CONtainer EXpress."
Conex Box Specs
What are conex box dimensions?
The boxes are available in several standard sizes, but most of them are either 20' or 40' with a ceiling height close to 8'. One with a taller ceiling height is often called a High Cube.
How much does a conex box weigh?
A 20' container typically weighs around 4800 pounds or more and a 40' container can weigh more than 8000 pounds.
How much weight can a conex box support?
The net load that storage containers will support depends on structure and size, but could range 57,000 – 63,000 pounds.
Buying a Conex Box
How much does a conex box cost?
Like anything, the answer is, "It depends." With a conex box, the cost will be determined by size, condition, and specifications. You can expect a barebones unit to start around $1000, something larger, with lots of extras may cost around $20,000.
Can you buy a used conex box?
Yes, because of their durability, a conex box can stay in circulation for many years. That makes buying a used shipping container very easy. Be sure to inspect it before putting down any money.
Where can I buy a conex box?
To see a wide variety of conex boxes for sale, visit SiteBox Storage.
Can you rent a conex box?
Yes, luckily, a conex container rental is easy to arrange. Companies like SiteBox Storage have options to lease or lease-to-own containers.
Steps to Buying a Conex Box
Determine the container size needed for your specific needs, location and budget.
Based on how long you need the conex box, determine if you will buy or rent.
Get a quote from a trusted source like SiteBox Storage.
Be sure to ask lots of questions and arrange to inspect the unit before buying.
Once payment has been arranged, have it delivered. Use this guide to determine how much room you'll need to have your conex box delivered.