It happens to everyone. You can research, plan, and prepare, but surprises still occur. How you deal with those surprises can be the difference between failure and success.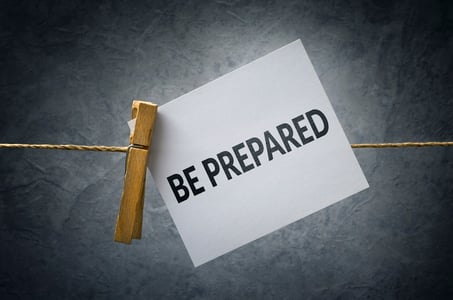 Most businesses know the basics of preparation. We use alarms and cameras to prevent product theft. Individuals and organizations need insurance to cover structural damage from fires and storms. Managers use safety and emergency training to help employees make wise decisions. In this time of uncertainty, is there more you can do?
Here are some ways you can use portable storage to protect against unforeseen situations:
Storage for Inventory Stabilization
Retail businesses depend on having regular inventory to sell. As a business owner, there is almost nothing worse than losing a potential sale due to insufficient supply. Even if the product is available, unstable prices can eat into even the best profit margins.
Mobile storage units, typically modeled after shipping containers, can allow you to buy and store more substantial quantities of popular products. This way, you can leave yourself a few weeks of cushion against unforeseen changes in supply. That extra time could be the difference between empty shelves and happy customers.
Storage containers could also provide retail outlets a cushion against increased prices. Tariffs or natural disasters can threaten shortages. Having the flexibility to keep an extra supply can save you money during sudden price spikes.
Seasonal Product Storage
Winter arrives every year, and for many of us, also brings snow, ice, and cold temperatures. Many hardware stores depend on selling cold-weather supplies like shovels and salt. Other retail stores are expected to sell coats, boots, and gloves every year.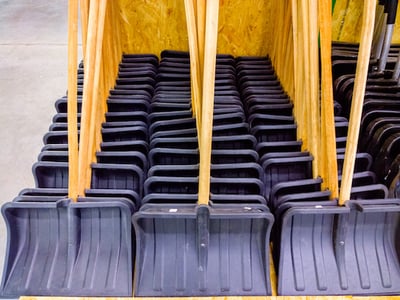 What is not as regular is WHEN the winter weather arrives. Some years there is snow on the ground before Halloween. Other years warm temperatures stretch into December.
Using portable storage containers is one way to ensure stores will be ready when winter products are in demand. Owners can keep a small amount of product from the previous season to sell in case of surprise freezes. Purchasing winter products at the beginning of spring may even be a way to save money. This logic also extends to products like gardening tools and back-to-school supplies.
Protection from the Storm
It seems every year brings new weather disasters somewhere in the US. News of floods, storm surges, and fires are becoming commonplace. Business owners often wonder how best to protect their assets from potential destruction.
Many people turn to above-ground storm shelters as a defense against Mother Nature. These converted storage containers can provide a useful place to store valuables. Construction sites, for example, use valuable tools and machinery every day. They would not have time to move this expensive equipment back to the home office at the first sign of bad weather.
What is possible, however, is keeping a portable storage container on-site to use in case of emergency. Such a shelter from the storm could be a vital part of any emergency plan.
Supply Chain Flexibility
Retail businesses are not alone in being concerned about supplier consistency. Manufacturing and assembly businesses all need certain input products to continue production. Without these products, they could be facing an expensive shutdown. Storage units could allow these companies to increase the inventory of these valuable inputs.
Manufacturing companies factor the price of inputs into the cost per unit. When price volatility is a problem, companies may not have a consistent profit margin. Increasing the size of the warehouse may be a problem if space and funding are limited. Storage container rental can provide space for reserve inventory in dubious times.
Emergency Contingency Shops
Many retail businesses depend on foot and street traffic to survive. Window-front marketing can be one of the most effective ways to draw in new customers. What happens when the street in front of your shop is shut down for construction? How would you operate if the building was damaged in a storm?
Mobile offices could provide an excellent way to continue operations. Setting up a few mobile offices can give you the advantage of testing locations. Once the emergency ends, return to the original site with a few new customers. If you must move, you now have a better sense of the best locations.
Multiple City Operation
Many of us remember when almost all movies were shot in California. Changing tax incentives led to location flexibility in the modern film industry. In the same manner, construction projects often land where the incentives are best.
Location instability can create headaches for businesses that depend on these industries. How is a contractor to know when it is safe to set down roots in a community? How effective can you operate away from your home office?
Mobile office containers provide a great way to add flexibility to your enterprise. When opportunities grow in another city, you can relocate and rent a mobile office near the worksite. If you expect to move frequently, consider purchasing an office trailer.
Trial Runs
Perhaps best of all, mobile storage containers come with options. You could take a substantial financial risk building a permanent structure. What if you need more space than you thought? How would you respond to neighborhood changes?
Self-storage boxes allow more flexibility in decision-making. You can select different sizes or rent multiple boxes. You could rent for a while and then purchase. Some units are designed for refrigerated storage, office space, and storm shelters. A mobile office can be emptied and moved to new locations if necessary.
With portable storage, you can try potential solutions first. Success often depends on adaptation. Adapting is much easier when you are mobile.