Every community has a wealth of special events planned throughout the year, and most of those have some special needs. Many are held outdoors and regularly attract hundreds, if not thousands of people. Traffic, crowd control, weather and scheduling are major concerns, but so are the facilities -- for the attendees, but also for planners and participants.
Businesses also periodically require dedicated special event facilities, no matter what the reason -- an annual awards meeting or recognition event, employee training conference or sponsorship of a charity event.
Temporary Storage and More
If there is a single primary need cited by event planners, it is for convenient, secure, temporary special event storage. Whether an event is held on a single day, over a long weekend or extends for a fortnight, having readily-available, easily-accessible portable storage doesn't only ease pre-event planning, but often figures into overall event success. The availability of temporary storage in the form of shipping containers that can be delivered and picked up as necessary meets that need.
However, there are other reasons to think about leasing a shipping container for temporary use. In addition to its storage benefits, a temporary container is an all-weather temporary "building" that can easily be transformed into hard-working, functional space. Available in a range of sizes, with double swinging doors on one or both ends, and with other unique options to serve uncommon needs, shipping containers are more adaptable than elevated storage trailers. Ground-level access means that stairs and ramps are unnecessary, and the ability to personalize a container for specific use is advantageous, whether it's meant for ongoing business use, or for a single charity event.
Here are some reasons to consider leasing a portable shipping container:
Temporary Office
If your vision of a shipping container is that of a bare bones corrugated-steel box with a single cargo door, let us dispel that notion. Modern portable offices are available with ample overhead lighting and electrical receptacles, in addition to windows and locking entrance doors. Differing configurations often combine storage with administrative space, and units suitable for office use feature insulated, finished walls and flooring, in addition to HVAC units. This type of short-term office is a familiar sight on construction projects, but such an office could also serve the planning needs for any business-related special event or seasonal enterprise, such as the operational headquarters for a summer farmer's market.
Ticket Booths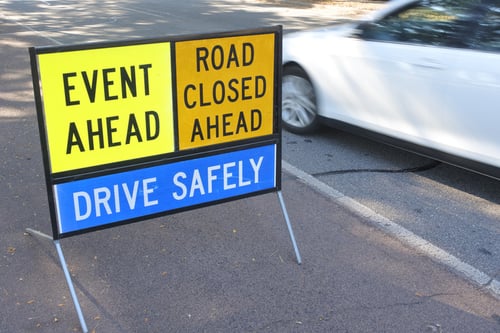 Ground-level storage containers are well-suited for use as ticket will-call centers or for onsite ticket sales. Larger containers boast two entrance/exit doors to facilitate movement through the container, and will accommodate multiple desks, tables or counters. The single-line configuration speeds the check-in process and will ensure that a line keeps moving. There is ample space within the the unit for needed supplies, but some containers include an additional designated storage area.
Media Headquarters
Containers are perfect for issuing credentials and distributing media packets, holding briefings, and as command centers for radio and television coverage. With an option to install interior partitions, it's also possible to configure separate interview rooms, or to set up a "photo op" backdrop. Special event planners also appreciate the versatility of portable containers as press lounges and communication hubs.
First Aid Treatment Centers
Any event that attracts a crowd should have a first aid station. A secure climate-controlled temporary health center is an invaluable aid for outdoor events, especially during the heat of summer. For any type of athletic event or endurance run, a treatment center is almost a necessity. Containers can be situated along a marathon route, or located adjacent to event seating as necessary, with the advantages of privacy for patient treatment and secure storage for medical supplies and equipment.
Health Fairs and Medical Screening Facilities
Mobile labs, blood donor stations, and screening trailers are not uncommon in communities across the nation. With a growing emphasis on quality, cost-effective healthcare options, using a temporary, portable shipping container that is designed especially for medical consultations and health screenings is a valuable public service. In addition, portable shipping containers can be used in disaster recovery situations to help distribute food and other needed supplies.
Dressing Rooms and Participant Lounges
The popularity of outdoor events has multiplied the need to offer some additional perks to performers and participants. Whether the event is a community "block party" with an outdoor stage, a summer art festival, a traditional holiday fair, or a zany family fun run for charity, if there is a need for dressing rooms or changing rooms, consider renting a specialty shipping container. In addition, a well-stocked container would be a welcome break room for organizers and volunteers at any special event.
Refrigerated Storage for Food Events
It makes little difference whether your special event is a chili cook-off, a small-town Labor Day barbecue, a vineyard wine and cheese event, or a party on the plaza, onsite refrigerated storage for ingredients and prepared foods is a critical consideration. Commercial-grade durable containers that will keep foodstuffs at the right temperature, from dry cooling to a deep freeze, are mandatory for any food-related event.
Adaptable Storage, Uniquely Versatile
Assuming responsibility for planning a special event requires ingenuity and creativity, whether it's a volunteer undertaking or a job responsibility. The creative uses for portable shipping containers are almost unlimited. If you're in need of distinctive convenience and adaptable functionality for an upcoming event, contact us to discuss the available options that will meet your requirements.
With locations serving the Midwestern United States from Kansas and Missouri through Oklahoma and Texas, the SiteBox team stands ready to assist you with your planning efforts. We can help you choose a portable storage unit of the right size and configuration to make your special event an unparalleled success, whether it's a business fair, school function, summer concert series, holiday event or fund-raising effort.