The secure onsite storage provided by cargo shipping containers, also called sea cans or conex boxes, is a popular choice on construction sites and other venues across the Midwest. These containers can be used "right out of the box" with no modifications necessary in many cases.
Their robust steel construction and secure, locking cargo doors make them ideal for storing parts, supplies, and equipment used on the jobsite. Just about anything that needs to be stored and secured onsite can be housed in these mobile 'strongboxes' in any location with a relatively flat yard or parking lot.
Office Spaces
There are times when you need more than a plain box for your project. Many units come preconfigured to be used as office spaces, and some are combined as office/storage all-in-one to enhance your workspace. They typically come complete with HVAC units, electrical, communications capabilities, and they have windows with grates to let in natural light while maintaining a secure environment.
With the addition of some basic planning tables and office furniture, they make converting the dashboard of your truck into a mobile office a thing of the past.
Storage containers: thinking "inside" the box
There are several ways to modify your storage area by simply using accessories for your conex box — a topic we've written about at length. This is handy if you are only renting the container, rather than buying. Accessories include things like pipe racks, bike racks, and wall-mounted shelves to bring parts, storage bins, and equipment such as saws, drills, and other hand tools up off the floor and within reach. Another benefit is the ability to use space near the ceiling that otherwise goes to waste.
Another easy modification for 20- and 40-foot containers with cargo doors is the addition of wall dividers. Dividers create two separate storage spaces, each with its own entry. While fast walls can be installed in the middle, they can be erected at almost any point along the wall that you need them.
Since these cargo container units sit directly on the ground, entry and exit are more accessible than other forms of storage. No massive or unwieldy stairs or landings are necessary. While you could spend the time and added material expense to lay down an asphalt or gravel ramp, steel ramps are available to make it safer to use the unit on uneven surfaces. The cargo doors can still be shut and locked with the ramp in place.
Storage accessories and temporary modifications are easy enough, even with units you're only renting. And readily available mobile offices are great too.
However, if you're open to purchasing, there is another option you can check into.
Made to Order Modular Spaces: Going Beyond the Basics
Usually, a basic rental unit will serve a worksite well. But what if you want something more personalized?
That's not only possible, but easy, with Custom Containers from SiteBox. You can order a unit that comes with more features than one of our standard Conex boxes and even more than one of our standard mobile offices. And nobody does it better than SiteBox.
We started making portable offices with the knowledge that there's no easy way to do business from the dashboard of your truck. Our goal since 1998 has been to make convenient solutions, with a heavy focus on customer service and safety.
Today, that means quality, rugged custom solutions in various sizes are far and away more than just storage or offices. Solutions can be customized in several ways: with one of our open floor plans, which is essentially a blank slate, or by choosing one of our custom modular designs—floor plans that have been so popular among our customers that the floor plans are now made-to-order and customized with your specifications.
One thing you might have noticed with standard mobile offices is the absence of indoor plumbing. With a conventional unit, you'll still need to rent an onsite portable lavatory.
With a customized unit, that can be included, and much more. With 10-, 20-, and 40 foot units, the possibilities are wide-ranging. We're talking more than restrooms, of course. But that is a feature that's possible.
The designs that are available in made-to-order units are popular for construction, manufacturing, and retail sites, among others. One of the most interesting layouts is the portable lab.
10' X 10' Portable Laboratory Layouts Make Good Sense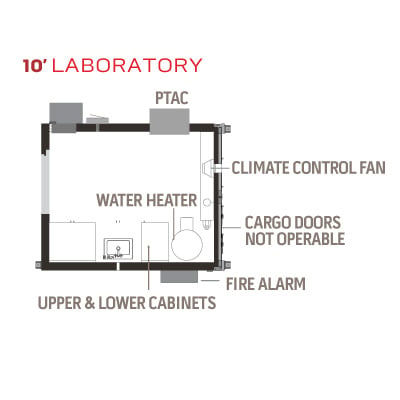 Custom-designed portable laboratories are used for various purposes. For example, consider one of these customized 10' X 10' shipping containers if you need a secure lab. For this made-to-order design, the cargo doors are blocked off, and ingress or egress is through a sturdy, lockable personnel door.
Along with a transformer to supply the correct voltage necessary, these units can be fitted with water heaters, PTACs (portable terminal air conditioning units) similar to those used in hotel rooms, climate control fans, fire extinguishers, and an exterior fire alarm, if necessary.
Upper and lower cabinets round it out. Everything but the kitchen sink (although one of those can be installed as well).
Some uses for these units are medical emergencies, soil, and water testing, chemical mixing, and research.
Temperature-Controlled Data Centers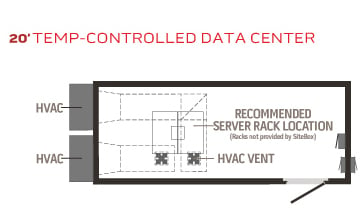 Whether for permanent or temporary installation, an 8' X 20' shipping container makes an excellent data center. While they can be custom-designed for you, there are several items that most customers want to have installed.
For example, keeping server racks and networking equipment cool is crucial for their efficient operation. Heat wreaks havoc on sensitive electronics, so these are outfitted with adequate cooling through twin HVAC units and proper under-the-floor ventilation.
Comm cabinets easily provide connection to the outside world, and a sturdy side-mounted personnel door secures entry. While you provide the server racks and electronics, the rest of the data center is built to spec.
Secure Guard Shacks Made Easy
Built-to-order guard shacks are often constructed from 20-foot containers. This gives the security personnel plenty of room to move around and keep the necessary items close at hand. Roomy enough for chairs, tables, and file cabinets, it's easy to keep your security personnel alert and on the job.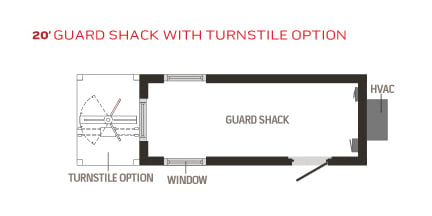 Windows can be added for visibility. An outside mounted HVAC unit keeps personnel comfortable in any weather. And, there's an optional turnstile to control entry and keep entrants moving along, yet still under watch.
These can be customized for factory or refinery entrances, fairgrounds, rodeo grounds, or any venue where crowd control and controlled access are needed. Once built, they're installed quickly at your location and can often be moved when necessary.
With 40-foot units, you have even more possibilities for sturdy custom builds. And as mentioned, indoor plumbing is possible.
Mobile offices in 20- and 40-foot Lengths with Restrooms
For all the comforts of the home office, customize a mobile office with an included restroom. You can start with a standard configuration and customize it to your specs. Or you can start from scratch and have the mobile office of your dreams built for you.
It's your office — get what you need in a custom space! Each custom modification can include features like security windows, HVAC with temperature control, smoke detectors, and fire extinguishers.
You can customize with options like ready-to-go desks with electrical and ethernet connections, stainless steel countertops, and many other material selections and finishes. Plus, using interior fast walls, we can section things how you desire, creating offices or space for storage.
We can even add plumbing for the addition of restrooms or kitchens.
20- and 40-foot Units for Restrooms/Locker Room Combos

Longer custom builds allow for even more layouts and accessories. These can be built for temporary or permanent placement in a variety of locations. Instead of a costly building project, a customized container can be modified and placed onsite quickly and cost-effectively.
Even if you plan to build permanent facilities, purchasing a custom restroom and locker combinations can fill the gap between breaking ground and opening for business. And the mobile unit can always be moved to a new location if necessary.
The 20-foot models are usually men's and women's restrooms only. But if you want to add locker rooms or changing rooms, then a 40-foot model is ideal.
So far, we've only looked at customized units that are 8 feet wide. But what if you need more space than that? That's also a possibility.
Multi-Section Modular Offices
Sometimes an 8-foot wide office just doesn't cut it. It's great for most cases, but often more room to move around is necessary. There could be several reasons:
More individual offices needed
Open spaces to allow for a reception area or lobby (yes, a lobby)
Restroom space needed in addition to offices
Maybe add a small gym or exercise room for permanent installations.
With fast walls used to partition areas, the options for a 40-foot multi-section office are practically endless.
This is where you can get creative with your purchased shipping container turned office space. Of course, HVAC units keep the environment comfortable for you and your employees. But there are many more amenities to give your office the look and feel of a brick and mortar office.
The fast walls can be manufactured and placed with regular office doors to allow for privacy. Double or single glass doors let people make an entrance into the office space in style. And don't forget a fully functioning restroom. No more porta-potties allowed.
Ceiling lighting can be installed to illuminate your tasks. But adding table lamps could give that customized shipping container a comfortable, pleasing atmosphere.
Tables and chairs, desks, and other furniture (that you provide) round out this larger option for onsite offices.
While this type of build is usually a permanent installation, it can be moved later if necessary. But overall, consider this multi-section, customized office as your new office onsite.
Often these can be manufactured and placed in a shorter timeframe than traditional construction. But longevity is another consideration. Cargo containers are built to last, often with up to a lifespan of 35 years.
The almost endless possibilities of customized containers
Next time you pass by a shipping container, it's almost guaranteed you won't look at it the same way as before. Now you'll see the vast opportunities available, whether used for temporary onsite storage or mobile office, or the potential for a more permanent solution using personalized customizations.
If you need more information or would like to explore your options, give our friendly, experienced sales reps a call at the location nearest you.