A busy construction site can become unmanageable quickly. But with a little careful planning and some creative thinking, you can turn your jobsite into a regular hub of efficient work activity.
The modifications to shipping container storage boxes (also known as cargo containers) are practically endless. We've touched on a few of them in our articles about cargo containers turned into mobile offices.
Very cool stuff.
I'll touch on a few options and ideas in this article. And when coupled with innovative mobile office choices, the potential for a more efficiently run operation increases.
When it comes to cargo containers for storage, size really can make a difference. Add to that the door options you have, and you can build the jobsite of your dreams.
For example, you have three options for the length of the unit (all with an 8-foot width):
10-foot
20-foot, and
40-foot lengths
But wait, there's more! Door placement can be important, too.
For the 8' x 10' models, the doors swing open on one end, with 78" wide and 78" tall dimensions. The split door design lets you open one side or both, depending on your needs at the moment.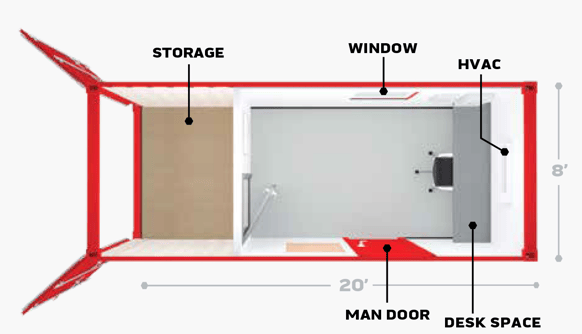 But, the larger containers have two-door options available. They can open either from one end, or both. They have the same opening dimensions as the 8' x 10' cargo containers, but the potential for some very cool modifications increases with the number of doors.
For example, you might want to use them to handle the supplies for two different crafts, like plumbing and electrical. As you know, conduit comes in 10-foot lengths, while pipes often come in 20- or 21-foot lengths. (Don't ask me why 21 feet—I have no clue.)
So if you get a 40-foot container for storage, you can add an inner wall to split the difference however you desire. You can split the length equally, or adjust it to fit the longer plumbing pipes. Either way, it allows you to keep both the tubular stuff and the associated fittings all together in one place. This works best for containers with doors on both ends, of course.
You don't want that stuff just sitting around in a jumbled mess, right? No problem!
Shelving and pipe racks and more container storage options
You can have the cargo storage container outfitted with a plethora of accessories.
You can add three-tier shelving or pipe racks, both. The stable shelving holds up to 550 pounds of your stuff per shelf or up to 1,100 pounds per bracket. And for the really heavy items, you still can create 32 inches of floor space under the shelves.
With the pipe racks, it's easy to organize pipes and conduit, and still have room on the floor for parts, tools, and gadgets.
You can even get bike racks for the container storage units. Hung by the wheels, it's possible to get up to 25 bikes stored in a 20-foot length. Unicycles, too. I don't know many workers who ride them to or around a job site, but the possibility is there.
Of course, secure locking is a must-have option to keep your valuables safe from vandals and other baddies. Our locks are sized to fit container doors (not every lock does that) and can be ordered keyed-alike if that's what you want.
Combine Storage Container Options for the Ultimate Jobsite
Depending on the size of the cargo container you rent, the options for a mobile office are impressive. Of course, you can get many of the same accessories as with the containers used for storage: shelving, pipe racks, and secure locking.
Add plan tables, furniture items like desks, lockers, tool cribs, and cabinets, and you can turn that container storage box into a real command center for the job site. Fast walls and walls with personnel doors make dividing the mobile office quick and easy.
Planning on one end and storage on the other…
Efficiency personified.
But for a more complete jobsite, use a combination of mobile office and storage-only units. Maybe you need just one office but need storage for a slew of other trades. Or maybe several small offices with either attached or detached storage fit the bill.
Whatever your needs, there's a container storage option to meet them.
The units can be clustered closely together, unlike many other storage options available. All you need is enough room to scoot the units in (and out when the job is done). We can help out with the logistics for how much space you'll need.
Don't overlook comfort in jobsite storage
Often the jobsite can be subject to heat, cold, and inclement weather. Another container storage option you might consider is the addition of a heat and air unit. And if you outfit one of the containers for break areas for the crew, they'll thank you for the convenience. (Although, if you're adding HVAC, you might want to start out with an office/storage combo, or an office unit, that comes already equipped.)
The protection from wind, rain, and the elements is not a container storage option—it's actually standard on all units, no matter the size. In fact, that "option" is just built in, as a characteristic of container storage.
When the job is done, it's time to pack 'em up and move 'em out!
Of course, if you rent from us, we handle all the logistics. And rental isn't the only way to go. You can rent, lease, lease to own, or purchase a unit outright (new or used). Just contact one of our expert sales reps and they'll get you started on a jobsite par excellence.
If you have any questions, you can read our helpful FAQs and you'll be fully prepared to talk business with our reps.