Summer is synonymous with severe storms. If you are in the construction industry or work in or own a retail business, then you know severe weather can wreak havoc on not only on your equipment or product but also with completion dates and sales.

Though the impact of severe storms will be mostly felt by the construction industry, other businesses experience it too. Below are examples of what can happen during a severe thunderstorm and how using container storage (in conjunction with your safety plan) may be the solution to these problems.
Severe Storm Hazards on Job Sites
Severe storms can affect a job site in different ways, and during the summer, storms bring wind and rain. Here's how these two elements in the form of summer storms can impact your job site.
Heavy Rain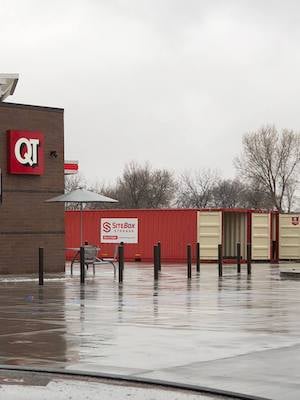 Water is a vital element that we all need, but it can be extremely damaging and destructive to infrastructure, equipment, and other systems, resulting in millions of dollars of damage each year. Heavy rain is probably one of the biggest concerns at construction sites due to the damage it can create as well as the delays it can cause.

Here are some adverse effects of heavy rain on a construction site:
Rain is moisture, and too much of it can affect the consistency of things like paint or the integrity of materials like wood, drywall, installation, and even brick.
Rain creates mud, and a muddy site is a safety hazard.
Heavy rain can cause flooding, and floods can destroy an entire construction job site and the contents there, as well as ruin outdoor inventory at a retail business.
Wind Hazards
Wind damage can cause millions of dollars worth of destruction a year, too, especially in the Midwest. Gusty winds can bring down trees, power lines, and even some infrastructure. Strong winds can damage vehicles and equipment.
If you are on a deadline, some contractors may try to work during a windstorm, but doing so can be dangerous. Cranes carrying heavy loads can crash, depending on the height of the load and strength of the wind. Wind can uplift dirt if conditions are dry, and this, too, can be a safety hazard while working. Dirt can get into equipment, compromising its functionality to work correctly and safely.
Other Weather-Related Conditions
Summer months in the Midwest also bring heat waves and tornadoes. High temperatures can be harmful because it poses the risk of dehydration. Those who work outside may be tempted to remove their safety gear or PPE for a little bit of reprieve while they work, but working without PPE is dangerous.
Also, related to health, heat brings dust and airborne dirt, which can cause respiratory issues. The dust can also enter equipment, causing premature wear and tear.
Further, heat can impact materials on a job site, like concrete, bricks, and paint:
Excessive heat can cause concrete to dry out, become brittle, and require additional water.
Excessive heat can cause the paint to crack, blister, wrinkle, or discolor.
Excessive heat can dehydrate bricks, making them too brittle and easily cracked.
Tornadoes, too, can affect a job site or retail business. The severity of the damage depends on the strength of the storm and whether the buildings were directly impacted. Tornadoes are always accompanied by strong winds and heavy rain, which can affect a job site as mentioned above, but a direct impact can mean the destruction of an entire job site.
Solutions to Weather-Related Hazards
If you are at a construction site or if you have a retail or other business, you need to plan ahead for the summer months. You should know what you have and how to protect it. This includes equipment, product, materials, and even your team. Here are a few tips for your planning.
TIP NO. 1: HAVE A PREPAREDNESS CHECKLIST
If you have a new construction project coming up, if you are involved in a current project that will extend into the summer months, or if you have a retail business that stores product on-site, you need a preparedness checklist.
A preparedness plan is ideal, and this would include precise information about the site, about what needs protecting, and about how to do it under certain weather conditions or other emergency conditions. A checklist is an easy go-to document that outlines everything in the plan, but in an easy-to-follow list. When the time comes, and inclement weather sets its sight on your location, you can readily implement the list.
TIP NO. 2: SECURE EQUIPMENT, MATERIALS, PRODUCT, OR OTHER SENSITIVE ITEMS
You already know that storms may come at some point during the summer, so to make sure you can implement your preparedness checklist on the spot, you need to make sure any equipment or product that is not in use, is safe and secure. This measure simply means one less step when an emergency happens or when the weather is inclement.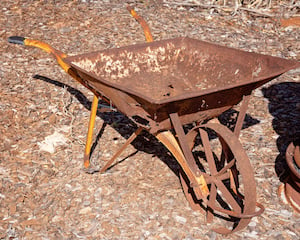 There are not many ways to secure dormant equipment or protect materials on a construction site, but for some items, mobile storage units might be an option. Twenty- or forty-foot container storage or mobile storage can be purchased (or leased) to accommodate some equipment when not in use and protect it from elements like rain, wind, and dust.
A storage container will protect things like concrete, brick, paint, tools, and other materials from damage by the elements. If you are anticipating a storm, make sure these things are safe.
TIP NO. 3: PROTECT YOUR Team
Storms bring danger that can seriously harm or even kill people. Your team's safety is a priority. Be sure to have a plan for getting your whole team to an agreed upon safe place and follow the protocols when you hear tornado sirens or know that dangerous storms are coming. Making getting to a storm shelter, or agreed upon meeting place, a part of your preparedness plan will ensure that your team is protected.
If using mobile storage to contain your valuable equipment fits into your preparedness or safety plan, SiteBox Storage can help you find the best option for you!